5 Intense Ways to Motivate Yourself to Work Out!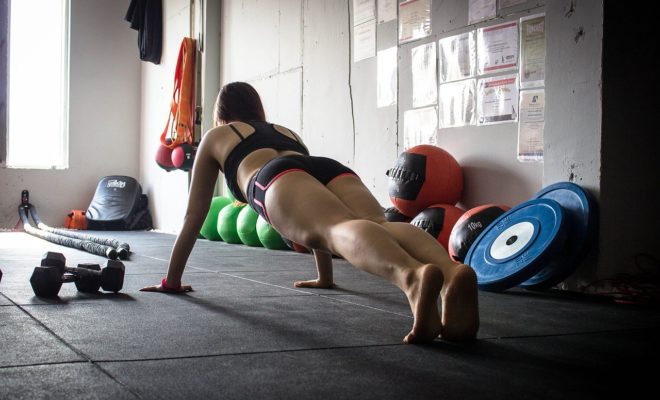 Do you ever get that feeling of just not wanting to go to the gym?  You know that you want to lose weight, build muscle, lift more, or become faster, but you'd rather just sit at home and watch Netflix?  We've all been there.  We've all had moments from time to time, and perhaps even every day, when we just do not want to work out. 
The reality is that we all lose motivation every now and then.  Even if you love working out and have an unparalleled passion for fitness, there comes a point when you find it hard to motivate yourself.  When internal motivation starts to wane, a healthy dose of external motivation might be needed.  One way to motivate yourself is with rewards, but another, less common, way to motivate yourself is through punishment. 
It's a very interesting concept, but many people are more motivated by punishment than reward.  Motivating yourself through punishment might not be the healthiest in the long term, but it can be quite magical in the short term.  Below are 5 intense ways to motivate yourself to work out. 
1.Donate Money to Charity
This is a very effective and meaningful form of punishment.  Have you been meaning to give to charity, but always feel as though you don't have the money or perhaps just feel too lazy or forgetful?  Well, maybe it's time to make donating to charity your punishment for not working out! 
Pick your favorite charity and make the commitment to donate a certain amount every single time you skip the gym on days that you're supposed to go.  If plan to hit the gym every Monday night and you skip a Monday night, donate a specific amount to charity.  If you really want to motivate yourself, pick a significant amount of money, like $100 or even $200, to donate.  If you're rich, set the amount even higher. 
2.Fast
Some people love to fast, but there are a lot of other people who find it absolutely grueling.  Some people would rather run 5 miles than have to fast.  If you're the type of person who loves to eat, what better way to punish yourself than by taking food away from yourself, eh?
Fasting isn't necessarily something that you should do every single day, so it's best to use fasting as a form of weekly punishment.  Pick one day each week that you'll designate as your fasting day, and then set a fitness goal each week.  It could be as simple as lifting 3 days out of the week, running 5 days out of the week, or attending hot yoga 2 times per week.  If you fail to meet your goal for the week, then punish yourself the following week on your designated "fasting day." 
3.Put Hot Sauce on your Tongue
Putting hot sauce on your tongue can be rather silly, but it can make for an excellent motivator.  This is especially true for those of you who cannot handle spicy food.  Some of you may suffer from health issues or may possess an allergic reaction to hot sauce or chili.  If a health concern exists, you may want to sit this one out, or, if you're still up to a similar challenge, feel free to substitute hot sauce with some form of disgusting food.  You could even use black pepper which is similar, but not as intense, or odd types of food that you may or may not like.  Other ideas might include mayonaise, mustard, pickle juice, salt, plain ginger, or an extra dose of onions.
Since ingesting an excess amount of hot sauce can potentially pose some danger, feel free to have a friend or family member around.  This can also serve as a form of accountability, so that you don't back out at the last minute.  Feel free to set a weekly goal for yourself in terms of the number of times you plan to work out.  Set a day for the following week on which you'll get together with your witness, and put hot sauce on your tongue.  Every time that you skipped working out from the week prior, will equate to one scoop of hot sauce that you'll put on your tongue.  You may not want to skip another day after you punish yourself with hot sauce!
4.No Kissing or Sex!!
This is one that definitely will not apply to everyone.  For those of you who are single, you can probably just skip down to point #5.  For those of you who are married or in relationships, this can be one of the most brutal and motivational punishments out there.  You will definitely need the support of your significant other on this one, as they will also have to agree to be fairly disciplined. 
Just about everyone who is involved in some romantic relationship loves to practice that act of love whether it's through holding hands, cuddling, kissing, or intimate sexual contact.  If we threaten to take that expression of love away, it's enough to drive just about anyone insane! 
If you're ready to take your motivation to the next level, then maybe it's time to put your desire for physical affection on the line!  Sit down and talk to your partner first.  Make sure that they're comfortable with using this as a way to motivate yourself to work out.  Set a weekly fitness goal for yourself.  Every week that you fail to hit your fitness goal, punish yourself by not kissing or having sex with your significant other for a week.  If you're courageous enough, raise the stakes by vowing to not even touch your partner for a week.  If you need an extra dose of motivation, extend the duration of time to 2 weeks or even 1 month! 
5.Take Away Your Favorite Hobby
If donating to charity, fasting, putting hot sauce on your tongue, or going a week without kissing your partner, is not enough to frighten you into hitting the gym, then there's one thing that might be brutal enough: taking away your favoite hobby.  It seems extremely simplistic, but this is one punishment that could be absolutely devastating to some.  We all have activities that we're passionate about.  In fact, we all have things that we're so passionate about that we've cemented them into our daily routine. 
Think about that one activity that you absolutely love to do and frequently do on a weekly, if not daily, basis.  For some, it's playing video games.  For some, it's watching football.  For some, it's watching Netflix.  For some, it's browsing FaceBook.  For some, it's as simple as drinking coffee. Sit down and think about that one activity that you really love to do and would feel irritated if you didn't do it on a daily basis. 
Once you've thought of your favorite hobby, have the courage to put it on the line for the sake of achieving a monthly goal.  Set a challenging goal for the month that you really want to achieve.  It could be related to weight loss, building muscle, developing a new skill, or hitting the gym every single day for a whole month.  If you fail to achieve your goal that month, then for the entire month following, give up your favorite hobby.   Are you willing to work hard for 30 days, so that you can avoid 30 days of torture?  You might surprise yourself on how much more productive you become! 
In conclusion, there are so many ways to motivate ourselves to work out more.  Rewards are definitely a great option, especially for long-term progress, but sometimes they're just not enough.  Sometimes we need to resort to more intense measures to excite ourselves into action.  Many times, punishing ourselves for not performing can be more effective and induce a new sense of thrill to our everyday lives. 
Those are just 5 interesting ways to discipline ourselves.  Feel free to fabricate other intense, unique, yet safe ways to essentially frighten your way to success.  You might just be one spoon of hot sauce away from having the best workout of your life! 
Author bio: 
Salutations! My name is David Hoang. I'm the owner of SupplementSuperhero.com
, where we talk about a variety of health topics mainly centered around weight loss, supplement reviews, and concepts to help you get the kind of health and body you desire!