Effectiveness of the Use of Electrotherapy in Physiotherapy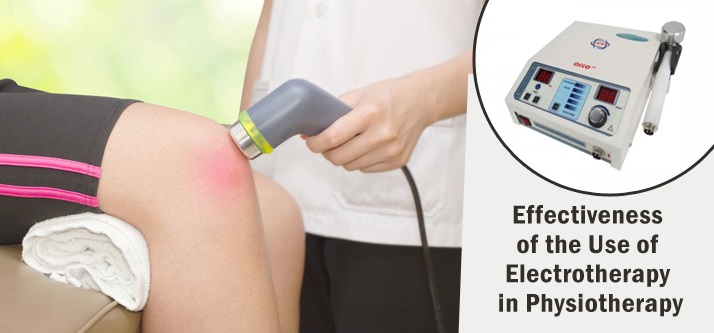 Use of electrical devices in medical treatment is termed as electromagnetic therapy or electrotherapy. One uses a variety of electrotherapy products such as the EMS/EMG unit and the TENS unit to do this.
Use of Electrotherapy
Medical industry is of the belief that the benefits of the electrotherapy methods are insufficient to warrant its use. But, there is evidence to show that it speeds up the healing process considerably. Thus, electrotherapy has found acceptance for use during the rehabilitation process. Accordingly, they use it when the patient has these problems in rehabilitation and needs it for:
Managing pain

: The patient is able to get a better range of movement of the joint or bone.

To improve strength

: This is particularly applicable for neuromuscular dysfunctions

Increasing blood flow

in the local region to help repair nerves and muscles in the region.

Improving the microcirculation

for better protein synthesis needed for repairing tissues.

Delivering agents

in iontophoresis.

Treating incomplete continence

faecal or urine.
Various types of applications
Use of electrotherapy products helps in the following ways:
Deep brain stimulation for neurological diseases

Electric wound healing

Most effective in bone healing
Electrotherapy finds use in treating muscle spasms, and prevent atrophy through disuse. One can increase the blood flow within aspecified region and augment the muscle stimulation. This, in turn, leads to improve range of motion, and helps deal with chronic or intractable pain. The pain may also be post-traumatic or post-surgical. The treatment envisages prevention of venous thrombosis and enhance drug delivery and subsequent wound healing.
Deep brain stimulation
Deep brain stimulation (DBS): In this technique, a neuro-stimulator is implanted in the brain. One send electrical impulses through the connected electrodes. These impulses are aimed at specific regions of the brain. These improve neuropsychiatric disorders and enhance movement. In very specific case, DBS has shown therapeutic benefits for patients suffering from essential tremor, Parkinson's disease, obsessive compulsive disorder, and major depression. This is an approved way to treat Parkinson's disease and essential tremor. It is being tested in other regions such as for treating major depression, PTSD, and chronic pain.
Electrical Muscle Stimulation
Electrical Muscle Stimulation (EMS): When one uses this method, one achieves muscular contractions through electric impulses. Other names for this are electormyo stimulation and neuromuscular electrical stimulation. Other than treating injuries, electrotherapy equipment physiotherapy serves as an effectivetool for strength training for athletes.
Compared to manual therapy
For most orthopaedic injuries, manual therapy will work better than electrotherapy. This is due to the better communication between the patient and the physician, better pain modulation, and also improved motion range of the wound. Significant improvement is seen in overcoming stiffness and pain. in this context, one must mention how the new Positional Release Therapy (PRT) helps to place the muscles and fibres in the new position before releasing for the curing process. This is not possible through the earlier electrotherapy techniques. Most of the electrotherapy methods address only the pain and do not address the tissues.
Since more patients are finding electrotherapy equipments and methods useful, the practice is increasing in India. One must not try them without supervision of a qualified therapist.